DENT WIZARD is sensitive to environmental and sustainable values.
This is why we have decided to commit ourselves to the reforestation of our French forests.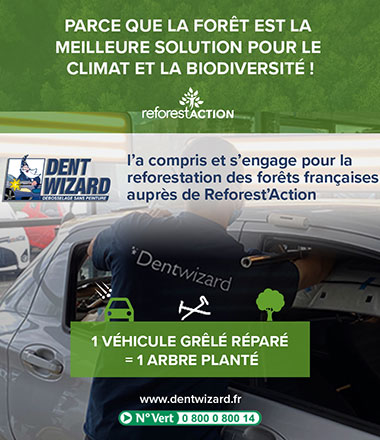 Why do we do this?
Climatic conditions are changing dramatically around the world: seasons are less and less marked, temperatures are unusual, and hailstorms are more and more frequent! This approach consolidates our commitment to already strong environmental values: our Paintless Dent Removal activity does not require the addition of any material (neither paint, nor putty) thus making paintless dent removal repairs ecological.
Indeed, "Repair rather than replace" is the motto of DENT WIZARD!
How do we do it?
Thanks to our operation "a hailed and repaired vehicle = a planted tree", we actively participate in the reforestation of our French forests. From now on, for every hailed vehicle repaired with DENT WIZARD, a tree will be planted in France.
By entrusting the repair of your hailed vehicle to DENT WIZARD, you too are contributing to the ecological values shared by our teams.
To learn more about DentWizard's activity, click here
For more information on this great cause, visit the Reforest'Action website