SPECIAL RECRUITMENT OPEN HOUSE POSTPONED TO JUNE 2021!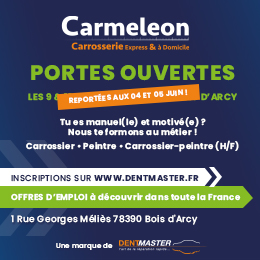 Postponement of the Open House of the Carmeleon repair center, brand of Dentmaster, on June 4 and 5, 2021!
Carmeleon, leader in express bodywork in center or at home, is continuously looking for body repairers, dent repairers or body painters all over France! More than 30 offers are currently available from the North to the East of France, including Toulouse.
To discover the current offers, click here!
It is in the workshop in Bois D'Arcy (78) that these Open Doors will take place in order to make discover the environment of Carmeleon and also its surprising trucks: a real working tool entirely equipped!
At Carmeleon, the technicians work in complete autonomy, you will be able to intervene where you are expected: paint laboratory, spray guns for localized painting, products and fast painting cycles, vacuum system, inflatable tent, sanding installation… Everything to make damaged vehicles look like new!
These Open Houses are for all profiles: novices as well as experienced, thanks to the Carmeleon Academy, you will be trained in our repair techniques and accompanied to practice your profession in the field.
If you wish to work for a company in perpetual development with a remuneration adjusted according to your interventions and a great autonomy, what are you waiting for? Join us!
To register, click here